At our Getting Well Naturally store, we are always adding new products on a continual basis. We opened the doors in February of 2013 and have been growing ever since. God is good all the time! Support your local community by letting us know what items you would like us to carry.
We carry all natural, non GMO, non MSG, and non high fructose corn syrup products including:
Agave
Almond butter
Aloe Vera juice
Apple cider vinegar
Baking powder
Beans
Brewer's yeast
Bulk herbs
Café lattes
Cereals
Cheetos
Chewing gum
Chia seed
Chlorella
Chocolate bars
Cinnamon
Coconut flour
Coconut oil
Coconut sugar
Coconut water
Coffees (regular & non-acidic)
Cookies
Corn chips
Corn meal
Crackers
Cream soda
Creatine
Energy / Snack bars
Essential water (9.5 pH)
Ezekiel bread
Flax oil
Flax seed
Flour
Fruit/Vegetable powders
Ginger candy
Granola
Green drinks
Honey
Jerky
Juices
Ketchup
Lemonade drinks
Lemonade mix
Lentils
Liquid Aminos
Macaroni and cheese
Maple syrup
Mayonnaise
Natural sugars
Oats
Olive oil
Papaya drinks
Pastas
Peanut butter
Peas
Pickles
Potato chips (Avocado oil)
Preserves
Protein powder
Red palm oil
Root Beer/Ginger cola
Salsas '
Salt (various kinds)
Seeds
Soups
Spaghetti, whole grain
Spices and mixes
Spirulina
Stevia
Sucanat
Teas
Tuna fish
Turbinado
Vegenaise
Xylitol
Wheat germ
Wheat grass
Zevia colas (with Stevia)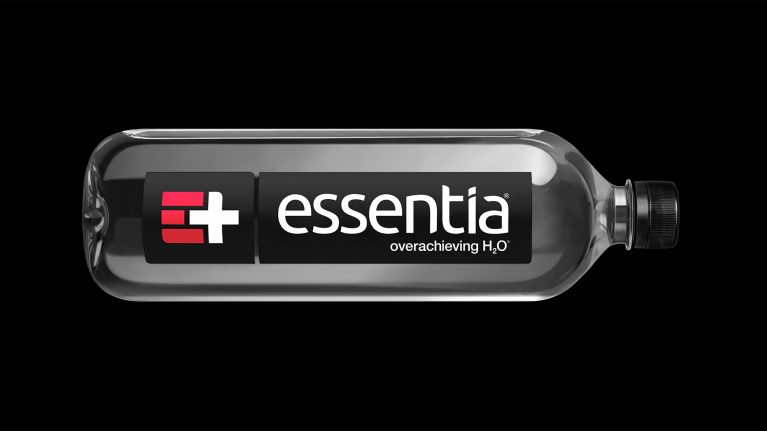 It takes hydration to the next level.
We created Essentia to help you get the most out of the water you drink. Proper hydration is essential to good health. When your body is dehydrated, your joints get stiff, your muscles get sore, your concentration and performance fade – just to name a few. Drinking sufficient water every day will keep you hydrated and give your body energy to function at its best. Essentia's hydrating qualities come from our proprietary electrolyte formula, ionization process resulting in a alkaline pH of 9.5. 
It gives you more of what you need.
Electrolytes facilitate communication within and between your body's cells and are critical to maintaining normal blood pressure, restful sleep, concentration and focus, proper cardiac rhythm, muscle strength, endocrine balance, intestinal function and more. Essentia is infused with trace amounts of essential minerals which emulate the naturally occurring minerals in your body. 
Make Every Ounce Count
Most bottled waters offer purity but no additional benefits. Essentia's proprietary process adds the perfect blend of electrolytes to purified water and then is ionized, creating a distinctive alkaline 9.5pH water to help your body stay properly hydrated.
And, it tastes great.
With Essentia, you get a clean & smooth tasting water without the added sugar, artificial flavoring and calories found in many sports drinks. Plus, it tastes pure, natural and delicious
This is not a comprehensive list of products we carry in our store. Feel free to visit or contact us to inquire about specific products, brands, or devices you are looking for. If you need items shipped to you, please contact us at (409) 227-4192 to place your order.